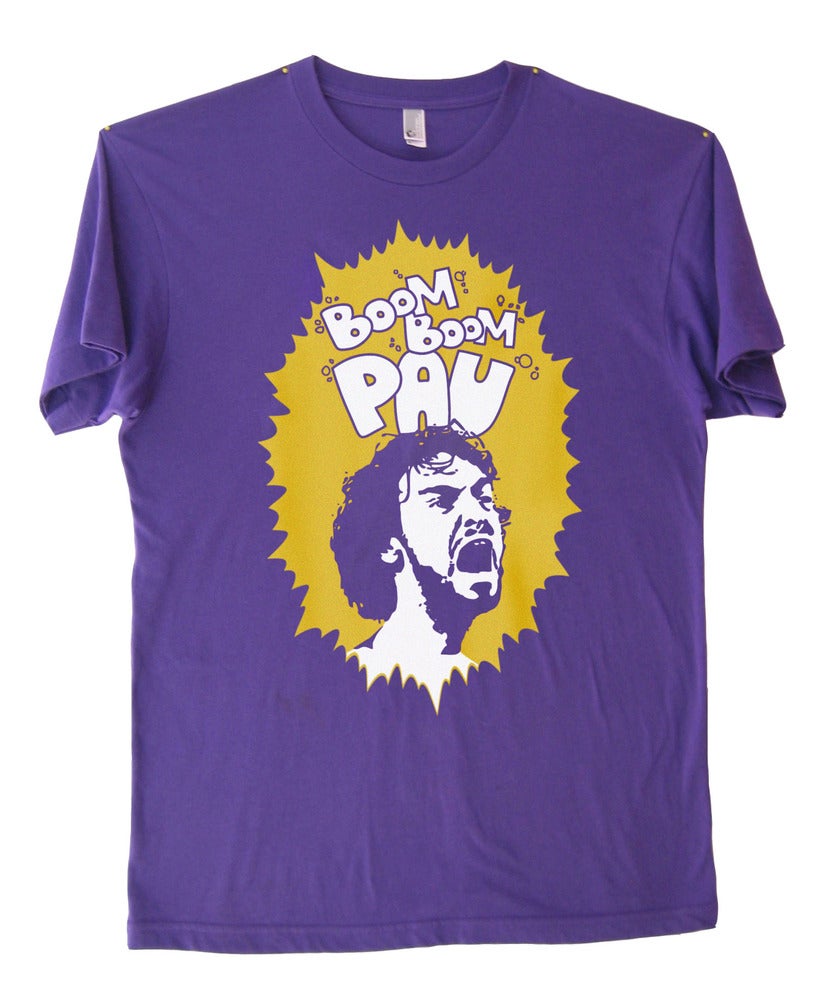 We're continuing the momentum of the previous
PurplenGoldLA
T-Shirt contest
with a new one: One lucky person will have the chance to take home this
Pau Gasol
-inspired "Boom Boom Pau" t-shirt!
Pau Gasol has been on a tear this 2009: He won his first NBA championship this year with the Los Angeles Lakers, he won the EuroBasket championship with the Spanish basketball team, and he was named the MVP of the 2009 EuroBasket tournament. Wearing this shirt is probably the best way to give props to the All-World talent.
I've changed the contest rules a bit to level the playing field for everybody, so please take note of the changes. :P Here are the new rules:
Blog comment - Post a comment in this blog with your name and email address. One blog comment counts as two (2) raffle entries and one person can a maximum of ten (10) raffle entries via this method.
Blog post - If you have your own blog or if you have an account on Facebook, write a blog entry (or write a note if you're in Facebook) that has a link going to http://www.biglakersfan.net and http://www.purplengoldla.com. After writing your entry, post a comment here with the blog post's or note's permalink. (For the Facebook note, a permalink looks like this: http://www.facebook.com/note.php?note_id=141400159738). Each blog post or note counts for five (5) raffle entries. A person can post up to ten (10) blog posts or Facebook notes.
Twitter - Post a tweet with the text "Big Lakers Fan: Get a FREE PurplenGoldLA T-Shirt!" with a link going to this blog post and the tweet must have the following hashtag: #purplengoldla. Each tweet will count for two (2) raffle entries. A person can post a maximum of ten (10) tweets. Bonus: Followers of @Regnard and @PurplenGoldLA double their Twitter raffle entries.
The deadline for the entries is next week, October 19, 2009 11:59 EST.
Don't forget that we can only send the t-shirt to a
valid shipping address in the United States
.
So what are you waiting for? Join now!
Technorati:
Los Angeles Lakers