I'm now officially out of my blogging off-season and I'm starting-off with a bang!
Big Lakers Fan
and
PurplenGoldLA
are going to give away spiffy
Los Angeles Lakers
-themed t-shirts for
FREE
! And we're not stopping there: we're doing this
EVERY WEEK
!
From this week up to the week of the start of the 2009-2010 NBA season on October 27, 2009, we will be giving away nice graphic t-shirts from
PurplenGoldLA
. We will be giving away a total of eight t-shirts during that period and for the very first week, we're giving away a shirt inspired by the Lakers' latest acquisition: Ron Artest.
The shirt design is featured below: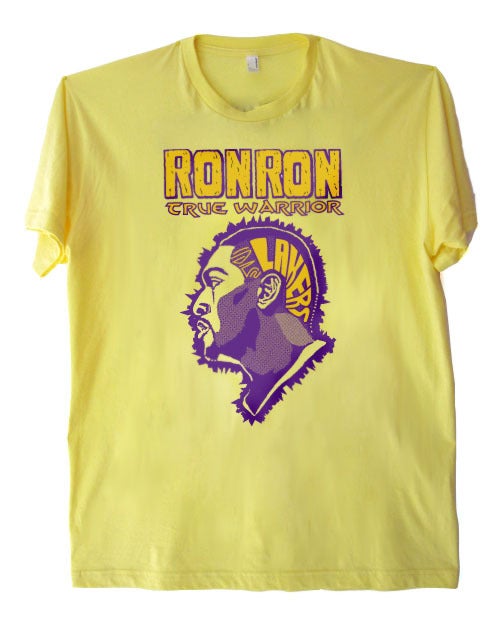 So how do you get this great-looking shirt?
We have a very simple online contest to determine who will get the shirt. The only limitation is that
we can only send the t-shirt to a valid shipping address in the United States
. That means either you're staying somewhere in the U.S. or you have relative or friend staying there who can receive the shirt for you. If you have a friend in the U.S. who's a big Laker fan, this shirt may be the perfect gift.
The contest rules are pretty simple. There are 3 ways to join this contest:
Blog comment - Post a comment in this blog with your name and email address. One blog comment counts as one (1) raffle entry and one person can only have a maximum of one raffle entry via this method.
Blog post - If you have your own blog or if you have an account on Facebook, write a blog entry (or write a note if you're in Facebook) that has a link going to this blog post. After writing your entry, post a comment here with the blog post's or note's permalink. (For the Facebook note, a permalink looks like this: http://www.facebook.com/note.php?note_id=141400159738). Each blog post or note counts for five (5) raffle entries. A person can post up to ten (10) blog posts or Facebook notes.
Twitter - Post a tweet with the text "Big Lakers Fan: Get a FREE PurplenGoldLA T-Shirt!" with a link going to this blog post and the tweet must have the following hashtag: #purplengoldla. Each tweet will count for two (2) raffle entries. A person can post a maximum of ten (10) tweets. Bonus: Followers of @Regnard and @PurplenGoldLA double their Twitter raffle entries for each person followed.
Aren't the contest rules simple?!?
All raffle tickets will entered into a virtual raffle and the winner will be determined randomly. Once a winner has been drawn, I will contact him/her and the winner must confirm within
3 days
upon announcement. If the winner fails to confirm, the winning is forfeited and a new winner will be drawn.
The deadline for this week's entry is on
September 20, 2009, Sunday, 9pm (EST)
. The winner will be announced the following day.
So post that comment, write that blog entry, or tweet-- you could be the taking home the nice Los Angeles Lakers inspired
PurplenGoldLA
graphic t-shirt.
Technorati:
Los Angeles Lakers